Interview Vol.2
IT×Business Improvement×Project Management
I want to contribute to the customer's business with the experience I accumulated in these three major areas
Kenichiro Tsuchiya
Director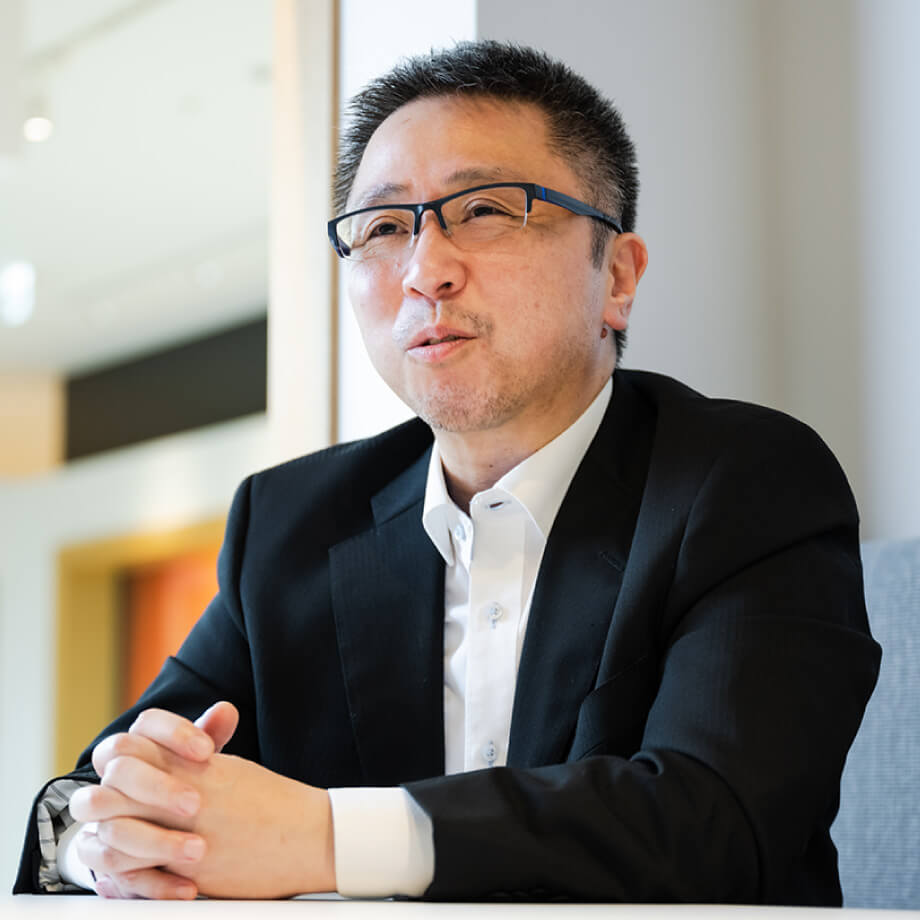 PROFILE
Graduated from Waseda University, Faculty of Letters, Department of Literature, Specialization in English Literature.
Joined Sevenzen in 2004 after working for a domestic manufacturing SI and a foreign-affiliated consulting company.
Focusing on consulting in the IT field in general, Mr. Tsuchiya supports large-scale company-wide projects and various projects as the person in charge of developing and maintaining business. Recently, has been providing support for major financial industries on the theme of utilizing and establishing technologies such as cloud computing.
What lead you to join Sevenzen?
I first entered the business through the manufacturing industry, and I was assigned to the delivery unit of the SI business for customers outside of the company. There was a strong subcontracting stance, and it was difficult to take on challenges that allowed me to suggested improvements, so at the age of 26 I changed jobs to a foreign-affiliated consulting company.
I joined the company as a leader candidate at the timing of launching a new ERP-related service, and eventually became the person in charge and led the business of about 200 people. I received high praise from management, but it was a daily until-late-at-night-struggle to achieve both the financial figures and customer delivery quality. After that, I planned to launch my ideal service for customers, and moved to a small foreign-affiliated consulting company that had just entered Japan at that time.
Even there, it was difficult to realize my ideas, so next I tried to set up a payment-related venture company with my colleagues, but I could not cross the harsh valley of commercialization and liquidated the company. At the time I became independent aiming to return to my origins, I met with Mr. Yokoyama, the president of Sevenzen. I was asked if I would like to join him in building the company, and after several discussions, I was able to sympathize with Yokoyama's values, so I decided to join the company. I have been a part of Sevenzen for almost 20 years.
Please tell us about your work and how you feel how rewarding it is.
Most of my work is about improving issues related to IT, but when it comes to business areas, management accounting (controlling) is one of my strengths. IT is indispensable for the implementation of management accounting schemes, and conversely, it is necessary to improve business efficiency when implementing systems and launching IT services.
Project management is also important when it comes to large scale projects, so I have come to accumulate experience while remaining aware of the three major important areas of IT, Business, and Project Management.
My core value is connecting the skills in these three areas to the output required for the customer's needs.
Also, as a director, I need to do more sales activities, but the reality is that I am often in charge of heavy projects on my own, so it is difficult to do so. I'm leaving that up to Yokoyama, the president, and I believe that it is my job to create and continue to perform well in new projects that he brings in.
When it comes to rewarding things; there are many times when I listen to the customer's issues and problems that I think it seems to be impossible to solve them. However, if there is a possibility of success, we are always determined to carry it out positively, and we will move it forward side by side with our customers. As a result, being able to carry it out without regrets is the motivation that I carry to the next project, and what makes me happy.
Please leave a message to the customers
and freelancers who have yet to meet Sevenzen.
There are many companies that do business only by matching freelancer consultants with customers, but Sevenzen emphasizes a steady delivery as a professional who sees things from the customer's point of view - and this is what differentiates us from other companies. We understand that our business is based on our delivery records and building relationships with our customers.
In addition, as a company, we are flexibly changing not only the market but also the sense of distance from our employees. I believe one of our good points is that when the employees' and the company's wishes don't match, we respect the thoughts and feelings of each other, rather than just imposing what the company wants to do.
Interview: Spring 2022