Interview Vol.1
Contributing to Japanese business
from Portugal
Sergio Real
Full-time Employee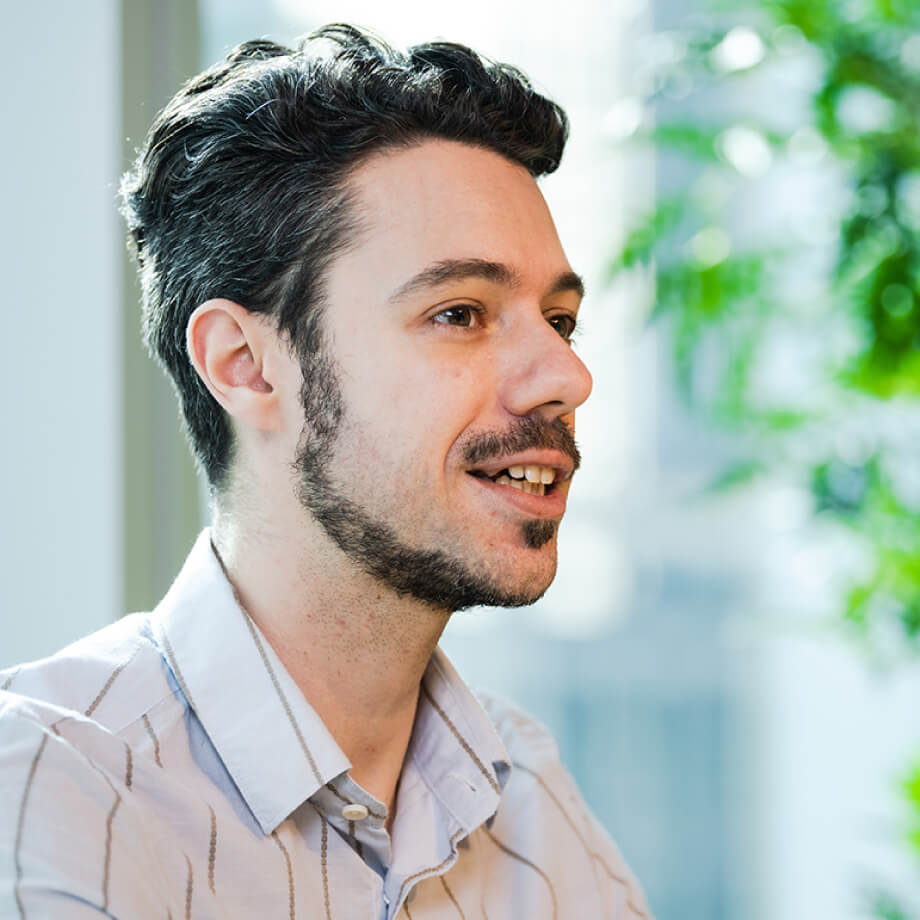 PROFILE
Born in Portugal. After graduating from the literature department of Porto university, took a Masters in Japanese and English translation, and then got a job at a company that conducts English conversation teaching in Japan. After that, changed his job to Sevenzen and became in charge of the operation of PATIO, a freelance communication site operated by Sevenzen and translation work. Is currently based in Portugal with his Japanese wife who is also an employee of Sevenzen.
What lead you to start working at Sevenzen?
I always liked the Japanese culture such as movies, books and music, so I started learning Japanese at university. After that, I got a strong desire to live in Japan, and also because I had a Japanese girlfriend (current wife), I got a job at a Japanese company as an English conversation teacher. After working there for about two years, I was introduced to Sevenzen by my wife who was already working there and changed jobs.
My wife had a strong desire to live in Portugal, so I was thinking of saving money in Japan and moving to Portugal in the future, but when we consulted with President Yokoyama, he proposed us to work remotely while still belonging to Sevenzen. At first, our idea was to live half of the time in Japan and the other half in Portugal, but due to the coronavirus, we now live and work almost from Portugal.
Please tell us about your main duties and any difficulties you have from working from Portugal.
In addition to translation work, I also operate a freelance communication site called PATIO as an engineer. I've always liked computers and games, and although I had some knowledge, I had no working experience as an engineer. When launching PATIO, I took various courses and training to acquire some more computing knowledge.
Working online was no problem, but it took some trial and error to work with the time difference of about 8 hours.
Currently, I communicate with the Japanese side from 16:00 to 19:00 in Japan (Portuguese morning), and improve the work efficiency by working during the time when the Japanese side is sleeping.
What do you think is the good point of Sevenzen?
Also, are there any differences from overseas companies?
I think it is an open-minded company with a fresh way of thinking, which is rare for Japanese companies. In that sense, I believe there are some points similar to European companies. The good point of Sevenzen is that we continue to flexibly optimize our work style, and President Yokoyama is always trying to create new ideas, and I want to be part of that.
In addition, Sevenzen wants to support various ways of working, and made our wish of working from Portugal true; President Yokoyama even seemed to be amused to do so. I think it's rare to find a company like this.
Interview: Spring 2022